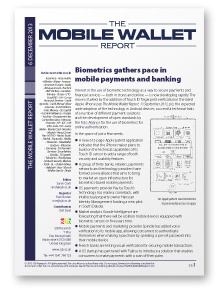 In the latest 12-page edition of The Mobile Wallet Report we examine:
Biometrics gathers pace in payments: We take an in-depth look at the latest developments in a sector where interest is building very rapidly. Fingerprints, voice prints, palm vein patterns, face recognition and iris scans are all now being tested for verifying a consumer's identity for payments at the point of sale and to protect access to mobile wallets, online commerce, mobile banking applications, individual apps on a device and physical locations.
Apple rolls out iBeacons to 254 US stores: The iPhone maker has updated its Apple Store app and implemented Bluetooth LE beacons in its US stores, making it possible for the iPhone maker to communicate with customers based on their location within a store.
PLUS: Exact Editions tests iBeacons for Newsstand sales, Citi lets customers pay with rewards points for online purchases, Co-op Financial adds mobile card controls, and more.
Organisations mentioned include Accenture, Accumulate, Alibaba, Alipay, Amazon, American Express, Apple, Banque Accord, Bar Kick, BNP Paribas, Carrefour Banque, Chase, China Bohai Bank, CITC-EuraRFID, Citi, Co-op Financial Services, Credit Agricole, Credit Mutuel Arkea, Discover, Exact Editions, Fido Alliance, GE Capital, Goode Intelligence, Google, Groupe Auchan, Groupement des Cartes Bancaires, Hanscan Identity Management, Harman, Hewlett-Packard, IDC, Internet Advertising Bureau, Judo, KFC, Leroy Merlin, MasterCard, Morpho, Mozido, Nexus Smart Pay, NXT-ID, Pay by Touch, PayPal, Payworks, Pebble, Placecast, PulseWallet, Quiznos, Robocoin, Samsung, Six Payment Services, SmartMetric, Spindle, Swiss Capital International, T Dispatch, Telemetrics, The Marque, The Natural Security Alliance, Tianjin Rural Commercial Bank, Total Group, UL, United Airlines, Validsoft, Visa, Xiamen Bank, XRomb, Walker Sands and Zwipe.