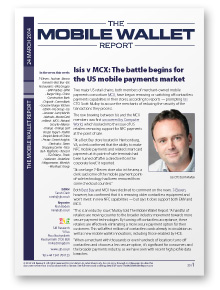 In this edition of The Mobile Wallet Report we examine:
Isis v MCX — The battle begins for the US mobile payments market: 7-Eleven and Best Buy, both members of MCX, are reported to be removing contactless payments terminals from their US stores, prompting Isis CTO Scott Mulloy to accuse the merchants of reducing the security of the transactions they process.
Burger King to roll out mobile payments and rewards across the US, prepares to go global: "One of the reasons the platform was selected is its ability to be easily localized in terms of both language and cultural differences," the chain says.
Biometric payments get thumbs up from French shoppers: More than 90% of the participants in a biometrics payments pilot are ready to make use of the technology, according to newly released results from the Natural Security Alliance.
PLUS: Vodafone to launch beacon payments in Turkey, Wu Tang Clan tests mobile payments service for bands and music labels, Spanish patients test GSMA-backed SIM ID service, and more…
Organisations mentioned include 7-Eleven, Auchan, Banca Generali, Best Buy, BJs Restaurants, BNL Gruppo, BNP Paribas, BPM, Burger King, China Construction Bank, Chipotle, CommBank, Gourmet Burger Kitchen, GSMA, IHL Group, Isis, Lavazza, Leroy Merlin, Mahala, MasterCard, mBank, MCX, Natural Security Alliance, Orange, Orange Leaf Frozen Yogurt, PayPal, People's Bank of China, Prezzo, Smart Insights, Starbucks, Swan Shopping Centre, Taco Bell, TagPoints, Tencent, TGI Fridays, Tmob, Vodacom, Vodafone, Wagamama, Wendy's and Wu Music Group.