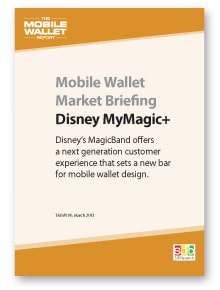 This 52-page report, part of The Mobile Wallet Report, explains why Disney's MagicBand offers a next generation customer experience that sets a new bar for mobile wallet design.
Disney MyMagic+ uses custom built RFID "MagicBands" linked to a mobile app, customer relationship management system and hardware infrastructure to provide visitors with a significantly enhanced experience when visiting a Disney resort.
Using the new RFID wristbands, guests can reduce the time they spend queuing, maximise the value of their visit, interact with Disney characters, pre-book and access attractions, lock and unlock their hotel room as well as make payments at specially designed POS terminals. And, at the same time, Disney can gain valuable insights into how its guests use its resorts, create tailored marketing programs and generate additional revenue streams.
While at first this may not seem to be a mobile wallet in the widely recognised sense, we believe Disney MyMagic+ sets a new bar for mobile wallet design and that this new report provides unmissable lessons for anyone planning, implementing or supplying mobile wallet solutions.
This briefing is also available as a standalone report.