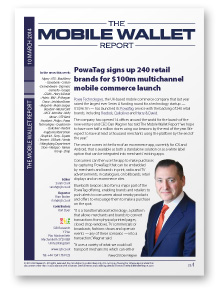 In this edition of The Mobile Wallet Report we examine:
PowaTag signs up 240 retail brands for $100m multichannel mobile commerce launch: "We hope to have over half a million stores using our beacons by the end of the year," Dan Wagner, CEO of the UK-based mobile commerce company that last year raised the largest ever Series A funding round for a technology startup, has told The Mobile Wallet Report.
US Bank to pilot mobile shopping platform: Like Powa, US Bank also plans to make use of digital watermarks that can be embedded in magazines, newspapers and catalogues as well as audio and video broadcasts, director of payments innovation Todder Moning explains.
Westpac to test Google Glass and Apple iBeacons: "Our CEO Peter Clare has given us a directive that we will deliver the best digital banking experience in New Zealand and the best digital banking experience in the world," says Simon Pomeroy, the bank's head of digital. "We really want to be at the forefront of this industry globally."
PLUS: JPMorgan Chase to launch mobile wallet this year, Wangfujing tests Tencent mobile payments in store, Rugby fans get Znap mobile payments, Philips guides shoppers via LED lighting, and more…
Organisations mentioned include Alipay, ATG, BlackBerry, Caixabank, Cellum, Demandware, Digimarc, Gemalto, Google, GSMA, Harry & David, Hybris, IBM, JP Morgan Chase, LetsMoveDown, Magento, Major League Baseball, MasterCard, MCX, Monitise, Nellymoser, OTP Bank, Paydiant, Philips, Powa Technologies, Qualcomm, Quiksilver, Reebok, Rugby Football Union, Shopkick, Sony, Square, Tencent, US Bank, Venda, Wangfujing Department Store, Westpac, Yankee Group and Znap.