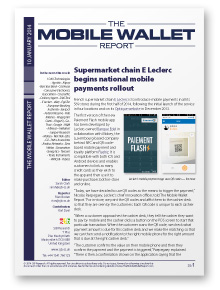 In the latest edition of The Mobile Wallet Report we examine:
Supermarket chain E.Leclerc begins national mobile payment rollout: All 569 of the French chain's supermarkets will accept payments via the retailer's own QR-based mobile payment app by mid-2014, chief innovation officer Nicolas Paepegaey tells The Mobile Wallet Report.
InMarket rolls out Bluetooth beacons to US grocery stores: The first 150 stores are now going live and thousands of supermarkets are expected to sign up for the mobile marketing service by the end of this year, CEO Todd DiPaola says.
First Fido Alliance products demonstrated at CES: Products conforming to the consortium's preliminary specifications for an open hardware-based replacement for passwords include a palm-sized iris verification device, a remote control for smart TVs that includes a finger scanner, portable fingerprint devices, voice verification software and a range of biometric dongles.
PLUS: Sequoia add-on promises to add mobile payments to any POS device, Google patents light-based mobile communication technology, Coinbase launches Bitcoin mPOS app, and more…
Organisations mentioned include 1OAK Technologies, Agnitio, Alipay, Barclays Bank, Coinbase, Consumer Electronics Association, CrucialTec, Delivery Agent, Didi Taxi, E Leclerc, eBay, EgisTec, European Banking Authority, EyeLock, Federal Reserve, Fido Alliance, Fingerprint Cards, FingerQ, Go-Trust, Google, H&M, Infineon, InMarket, Juniper Research, Mobey, Nok Nok Labs, O2, Parks Associates, Radius Networks, Sina Weibo, Sonavation, Synaptics, Tencent, Texas Instruments, WillCall and Yubico.